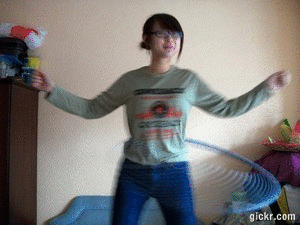 I try to do it an hour a day, but sometimes I just have enough time! I love playing the Sims 3 while hula hooping!
My hula hoop is made of bamboo and leaves my stomach with a red ring XD
Anyway the weather is becoming more dress friendly so I thought I would repost magazine scans of simple excercises that can help you feel more confident aboutyourself :)
TBH I have no idea how the arm pinching will help... but the other excercises are used in aerobic classes I go to.
When squatting, your bum shouldn't go below your knees and you should put all your weight in you heels and not your knees.
I love sit ups, who could think of a excercise you could do lying down? Ingenious :)
Gym memberships can be expensive and sometimes you just don't have the time to go, so I hope you find these scans helpful! You can do squats anywhere.... you may get odd looks though.
NOTE: I'm NOT promoting fad dieting, being unhealthily thin or actually being thin.
I would love rather be a size 12 with a curvaceous body, than a childish one like my own XD
What's your favourite excercise/sport?
Yoga and squats for me. You can't get enough of butt crunching excercises!