Whilst in Hong Kong I was staying at Sha Tau Kok. It's a beautiful village, but you have a Hong Kong ID card to be let in since it's a 'closed area'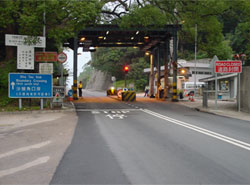 (picture via
Hong Kong Police Force
)

From what I understand you have no reason of being in the village unless you have relatives there or are living therefore most visas do not permit you to pass into the village. The police really dislike their photo taken (my dad was chased decades ago for taking a photo of a police man XD ), they carry hand guns, whether they know how to use them is another thing.

Even though it's a beautiful village I really dislike going through the security check, my spoken Cantonese is extremerly limited and getting my ID checked wasn't always the best experience. Once your bus/taxi/car gets to the border the police check your permits/ID cards and then you are allowed across.
Everyone knows each other in the village, so my brother and I normally get a few weird looks, but after a few visits to the bread bun shop the shopkeeper remembered our normal order (sausage bun and pineapple bread)
When I was taking these photos I spotted a few kitties, but they all ran away from me :(
I wish I took more photos of the scenery and learnt more about the legal system, even though it likes to change all the time. I hope I didn't bore you too much XD
Have you had any probelm with security?

Please join my giveaway ^^