I went on another adventure with Charlotte today :)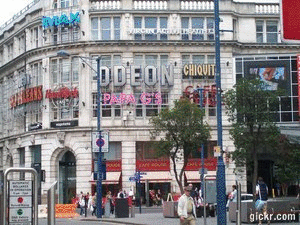 We found a little goldmine of alternative shops; it's convinced me to definitely apply to Manchester University!
I loved the design of the building and the layout of it :3 It's wasn't easy to find, but now I think it is, we just walked in the opposite direction lol.
Afflecks
(the alternative goldmine) isn't too hard to find and I would really recommend going there if you're ever nearby! They even have retro arcade games dotted about in the building too :)
We found a
Cyber Dog
aswell! It was pretty intense, the staff there were super friendly and cool too, I would love to go to a rave party now :)
www.cherrycherry.com
The store was very cute, but the shop owner mistook me for being able to speak mandirin, and it was very awkward and then I walked into her mirror.....
We later trekked to China Town for Soya milk and Mountain Dew. I spoke some Cantonese again :3 I'm such an embarrassment to the Asian race...
ooohhh?
I picked up alot of flyers too, which I'll late use as postcards :)
There was beautiful sky aswell on the way back. I love my little adventures, I'm going to go back to being boring when college starts again though :(