I have alot of time to sew now, and I really want to use up my fabric pile so I have an excuse to buy more fabric!

Tshirt; gifted and revamped, Bow Necklace; gifted, Skirt; Handmade
Before and After
I cut the neck and sleeves and then simple used
bias binding
to finish instead of hemming. I hope he doesn't mind I cut up his gift....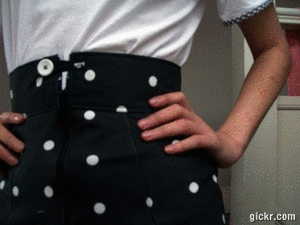 Detail shots
I made a skirt aswell, with new block pattern I drafted. I haven't drafted a skirt pattern in a while so it was a shock to find out there is a around 11-12 inch difference between my waist and my hips, which I thought was quite a big difference but apparently I'm healthy and
fertile
according to my waist to hip ratio, which you can find out
here
.
blurry arms!
I used an open end zip and cut the fabric on the bias so it was stretchy, although I forget I suck with stretchy fabric so my zip doesn't sit right and I have to lift up my skirt when I sit down so it doesn't look like I have a penis....
The scooped back shows my excema, which has worsened, but oh well if people don't like it they don't have to look. I shouldn't feel ashamed because of my scars and skin condition.

What's your waist to hip ratio?
mine is 0.71